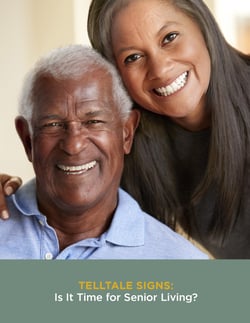 When senior care is the best choice for your loved one, and what to do next.
Aging can be a wonderful experience, even as it challenges you to reorient your expectations from yourself and your surroundings. However, while age-related changes are normal and to be embraced, it's important to recognize which are a part of normal aging and which could be signs of something more serious.
This free guide helps you recognize the telltale signs of memory loss or early onset dementia, and when it may be best to bring on a little extra help.
In this guide, you'll find:
Explanations of typical signs of early onset dementia
Checklists to help recognize if you or a loved one may be experience symptoms
Comparison between Home Health Care and Assisted Living options
A comprehensive home safety checklist
Tips to help recognize when senior living may be the best option
Fill in the short form and get your free copy — we'll deliver it straight to your inbox.