How to Afford the Costs of Senior Living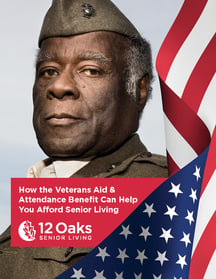 Change can be difficult, particularly when you don't have all of the information to make an informed choice. This is especially true when deciding how best to fund a senior living arrangement. "Is staying at home more affordable than moving into a community?" and "What funding options are available to me and do I qualify for them?"
This is why we put together our guide, How the Veterans Aid & Attendance Benefit Can Help You Afford Senior Living. It contains information you need to know to make the best financial decision including:
Who is Eligible for Veterans Aid and Attendance?
Common Myths about Veterans Aid & Attendance
The Benefits of Aid & Attendance in Senior Living
The Application, Approval and Appeal Process for Aid & Attendance
How to Apply for Veterans Aid & Attendance
To download our guide, simply fill out the brief form and we'll deliver it directly to your inbox.